The Starfish Assignment is an independent organization that works with officers to address the areas that need help the most in the community that they serve. While patrolling the neighborhood, Columbus Police Officers Joshua Bell and Mike Daymut realized that many families, especially in the height of this pandemic, will not have a warm meal this holiday season. Therefore, this led them to pitch their idea to the Starfish Assignment to offer assistance. Columbus Police Officer Pete Casuccio, executive vice-President of the Starfish Assignment, loved the idea, and that's how the first-ever "Cops & Gobblers" came alive.
On Wednesday, officers from the fifth Precinct in South Linden, alongside members from the Starfish Assignment volunteers, gave away thanksgiving dinners to one hundred and fifty families giving them something to smile about this holiday season. They gave each family frozen turkey, a bag full of stuffing, cranberry sauce, instant potatoes, gravy mix, corn, green beans, and cornbread mix. Kemba Financial group credit union-sponsored this giveback initiative, and all of the donations were from Walmart on Morse Road. The Organization and the CPD met at the Douglas Community Center then proceeding to the Winsor neighborhoods.
In an interview with 10TV-WBNS, Officer Daymut, who originally pitched the idea to Starfish Assignment alongside another officer (Bell), stated that "Anything we can do to put a smile on people's faces, puts a smile on our day." Officer Bell also added that "It's been a trying time, now more than ever, just any opportunity we have to give back to the community is good."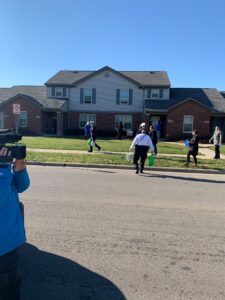 And so, with this belief, dozens of other officers within the South Liden Precinct also participated in the first-ever "Cops & Gobblers." For any of the residents who were not home at the time, picking it up at the Douglas Community Center located at 1250 Windsor Avenue was an option. One of the residents who were not home at the time approached one of the officers and said, "thank you." Those who were home also thanked the officers after receiving their Thanksgiving Dinners.
Communities and law enforcement officers are encouraged to become volunteers with Starfish Assignments because "no one can do everything, but everyone can do something" (their slogan)
Overall, the event went accordingly; however, the hopes were that every door that got knocked on could receive the gift of giving. It was the only disappointment to a very successful first-ever "Cops & Gobblers."
This Sunday, November 22nd, at 12:30 p.m., at the Precinct 19 Substation located at 2070 Sullivant Avenue in Columbus, Officers from 19, 8, and 10 Precincts and Franklin Township Police Department will be teaming up with Starfish Assignment again. This time they will be delivering Thanksgiving bags provided by a local charity to the Westside families in need.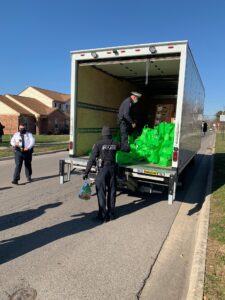 Written By Quentin Patterson & Okon Ekpenyong