With this week's latest Heisman rankings going out, I find it challenging and confusing why the country does not give the University of Florida Quarterback Kyle Trask more respect and higher rankings. They still have Mack Jones of Alabama leading off at number 1. Justin fields of Ohio State University at number 2. Trevor Lawrence of Clemson University at 3. Kyle Trask of the University of Florida at 4. Zack Wilson for BYU at 5. And lastly, Ian Book of the University of Notre Dame round out the top 6.
Now is it just me, or when you have a quarterback that leads the nation in touchdowns pass in 28 has the 3rd best QBR (quarterback rating) in the country and has only thrown 3 INTS on the whole year. Granted, I understand that he has one loss on the season to the now 5th ranked Texas A&M Aggies, but I really am not sold on Mack Jones. You have Trevor Lawrence that hasn't played in two weeks. Kyle Trask has 12 more touchdowns than Jones, but the county and Committee believe that Mack Jones is undefeated in the SEC and has more passing yards and a higher QBR. All will become come clear when these two meet in the SEC championship game this year. If you think about it, Kyle Trask is a gamer and knows how to win a game. He's special.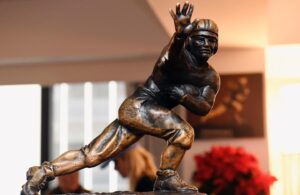 For a year of uncertainty and new looks, I thought this would be the year I could actually see one of these none power five schools get in and participate in the college football playoff. With BYU and Cincinnati being the two notable teams this year making a great case so far, the CFP is still not having it this year. Both of these teams are undefeated and have been blowing the meme opponents out the water. On top of that, both teams are ranked in the top 10. it has gotten to the point where you have groups like BYU asking to put more games in their schedule to have a better chance. Over the year, we have seen these none power five schools compete and win games. When they are given the stage, they have always risen to the occasion. From the Boise States in 2007 to the UCF's and Memphis of the past two years, It's time to give the little guys a chance. I believe 2020 should be the year we see that the next step takes place.